Transportation
Flights
The primary Seattle airport is Seattle-Tacoma International Airport (SEA). Most major airlines will fly to SEA, and there is convenient access to transit from SeaTac airport. Rental car facilities are also available at SEA.
To travel to and from the airport, there is a on-site Link Light Rail station which can take you directly to the University of Washington's two stations. More details on the Link below.
Public Transportation
Transit in the Greater Seattle Area is administered by Sound Transit, the regional transit authority. Sound Transit is made up of multiple local transit operators. In the city, the main operator is King County Metro.
Transit Cards
The most convenient way to pay for transit is using an Orca card. The Orca card is the regional transit tap card, which can be preloaded with a balance to spend on transit. Transfers between mode of transit, such as from bus to train, are only available using the Orca card.
Orca cards only cover fare for one rider at a given time. Each rider will need their own Orca card.
Orca cards can be purchased from Ticket Vending Machines, which are available at all Link Light Rail stations, including the station at SeaTac.
More information is available at the Orca website: https://myorca.com
Link Light Rail
Link is a light rail service that operates in Seattle. It connects various neighborhoods of Seattle, including downtown, Capitol Hill, and the UW campus, as well as other areas in the region, such as Sea-Tac airport.
The main line of Link Light Rail is the 1 Line. The 1 Line operates every day at varying regular frequencies. Trains usually operate till around 1am, and do not resume till 4-5 am. See the Sound Transit website for more details and the schedule.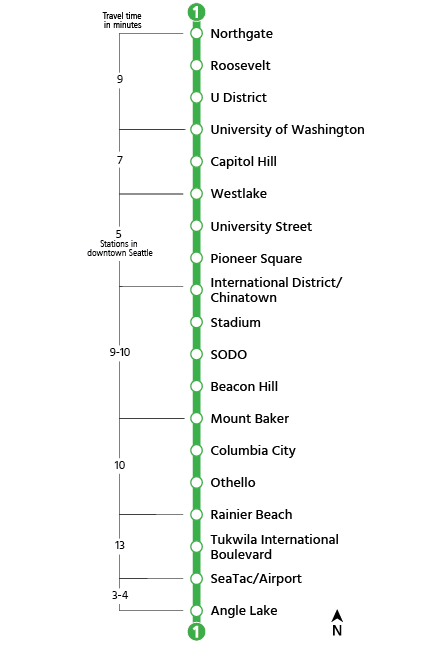 There are two light rail stations on the UW campus, University of Washington Station and U-District Station The U-District Station is on the Ave, closer to local businesses, restaurants, and the West Campus dorms.
Note: There is an additional station on the 1 Line known as "University Street Station". This station should not be confused with UW Station and U-District Station, as it is not on the UW campus.